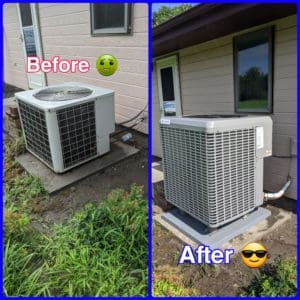 Having a fenced in yard is really convenient when it comes to letting your dogs get some exercise and do their business, the downfall is if you have your condenser in that backyard, it becomes a great place for your four-legged furry friends to mark their territory.
Dog urine is corrosive to the aluminum fins and copper coil in your outdoor unit. If the fins are corroded, they won't be able to transfer heat effectively from the coil that holds refrigerant that is located within those fins. Also, if that coil starts to corrode, it can begin to leak refrigerant and your system will begin to not function properly. Depending on the severity of the corrosion, the damage may be irreparable and replacing that condenser will be your only option.
So how do you keep your condenser safe from dog urine? Building or installing a fence around the unit is your best bet. Make sure that the fence is at least 3 feet away from the unit and not solid so air can flow through easily and don't add coverings or plant foliage close which can block air flow and inhibit the release of heat from your home. Planting bushes or installing a fence too close will also cause space constraints when you or your HVAC technician comes to service your AC system.
Dogs bring great joy to our lives! But they can also put great strain on our pocketbooks if you're not careful. Make sure you're protecting your condenser from your doggos so you're not needing to replace your equipment prematurely when damage could have been prevented.
De Hart Plumbing Heating and Cooling, serving Manhattan Kansas, Junction City Kansas, Wamego Kansas, Topeka Kansas, and some surrounding areas