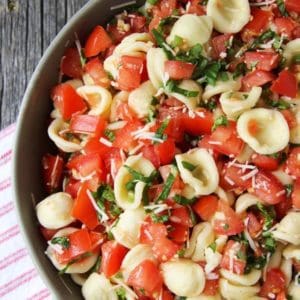 If you're like me, you love all things bruschetta. And if you don't know what bruschetta is, it's a delicious mix of tomato, basil, garlic, and balsamic vinegar. Now, you usually find bruschetta served on baguette slices, but this recipe here is the perfect summer pasta salad.
Ingredients:
1 lb of pasta (shells or any smaller pasta but anything will work)
2 ½ cups of halved cherry tomatoes
1 tbsp balsamic vinegar
1 clove of garlic, minced
¼ cup of torn basil
¼ cup of extra-virgin olive oil
Salt & Pepper to taste
Cook pasta in salted water according to package directions until al dente.
In a bowl, whisk together olive oil, balsamic vinegar, salt, and pepper.
Add pasta, garlic, basil, and tomatoes and toss to combine.
Let it sit for 15 minutes and it's ready to serve!
This is best made the day of serving. If you make it ahead of time, make some extra dressing of the balsamic vinegar and olive oil and toss it into the pasta salad prior to serving.