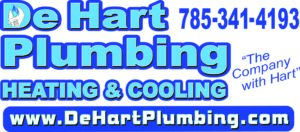 The leaves are changing colors and temperatures are dropping and before you know it, the brisk cold of Winter will be here. That gives you plenty of time to poke around your house and take care of some home maintenance before the cold weather sets in.
Clear downspouts from debris. Clean your gutters and downspouts and make sure they're draining properly away from the foundation of your home so the water does not leak in through any cracks in the home's foundation.
Check and replace/add heat tape to exposed water lines. Add heat tape or insulation to exposed water lines in the home to help prevent the chance of freezing and pipes bursting with below freezing temperatures.
Check for drafts around windows and doors and seal as necessary. Drafty windows and doors lead to heat loss which means higher energy bills for you.
Check shutoff valves for proper operation. Test all shutoff valves in your home to ensure they are working properly and be sure to check your main water shutoff where water first enters your home to make sure it is turning on and off the water properly to the whole home.
Maintain your water heater. Test the pressure-relief valve by lifting the lever. If the valve doesn't lift and water isn't released, you'll need to replace the pressure-relief valve. Also, drain the tank to flush out sediments that have settled on the bottom of the tank.
A little extra work around your home now can help you throughout the colder season ahead. For anything plumbing or HVAC related you're unable to take care of yourself, call us at 785-341-4193 and have our highly-trained technicians take care of your needs!
De Hart Plumbing Heating and Cooling, serving Manhattan Kansas, Junction City Kansas, Wamego Kansas, Topeka Kansas, and some surrounding areas.