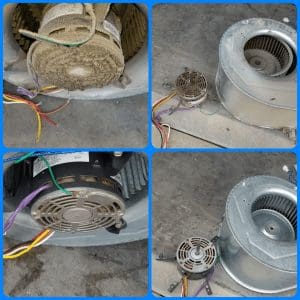 While having a technician perform your annual maintenance on your AC unit, they may mention that your blower wheel is dirty and should be serviced. But what does that mean for you? First off, your blower wheel is what pushes air through your HVAC system; whether you're using your air conditioner or furnace. Dirty fan blades will cause your blower motor to work harder and increase energy consumption. A build-up of dust as little as 1/10th of an inch can reduce your HVAC system's efficiency by 20% and causes the motor to run hotter which will ultimately reduce the lifespan of not just your blower motor and wheel, but also your furnace and air conditioner.
For a blower wheel service, our technicians will disassemble, completely clean, add lubrication, reassemble, and test the operations to ensure your blower motor and wheel is working as efficiently as possible for you. To help your blower motor and wheel stay cleaner longer, changing your air filters monthly will help keep dust and debris from becoming built up on not only your blower wheel but also on important components of your AC system and furnace. Keeping your blower motor and wheel maintained and serviced annually, along with annual AC and furnace maintenance, will increase the life-span of your HVAC system.
For all your plumbing, heating, and cooling needs, call us at 785-341-4193 to have our highly-trained technicians take care of your home and business needs.
De Hart Plumbing Heating and Cooling, serving Manhattan Kansas, Junction City Kansas, Wamego Kansas, Topeka Kansas, and some surrounding areas.