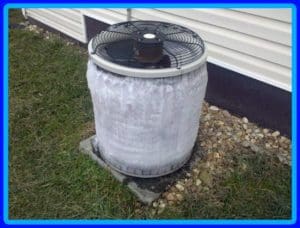 We are going through a heatwave currently! Your AC may run constantly! Your Air conditioner may not keep up with what you have your thermostat set at!  This is generally pretty normal no matter the age or condition of your AC system!
A few things you can do before you call your HVAC company are check and replace your furnace filter if needed, make sure thermostat batteries are good, and check that breakers are not tripped. Spraying down your condenser to remove debris may also help.
Keep in mind that if you have your thermostat set at 68 degrees and it's 105 degrees outside, that's nearly a 40-degree temperature difference. Your air conditioner will struggle to keep your home at that low of a temperature. If your system is not keeping up, raise the temperature you have set on your thermostat to close to what your thermostat is reading so if it's 79 degrees in the home, bump the thermostat up to 77 degrees and allow your system to catch up for a few hours. Once your AC reaches that set temperature, bump the thermostat down a couple more degrees until it can catch up and continue the process.
We know it is miserable when your air conditioner isn't keeping up. There's a lot of factors that can come into play also. How is your home's insulation? Are you keeping windows open allowing sunlight to stream in and create the greenhouse effect in the home? Are all of your vents open?
For all of your air conditioning repair, service, and replacement, call us at 785-341-4193!
De Hart Plumbing Heating and Cooling, serving Manhattan Kansas, Junction City Kansas, Wamego Kansas, Topeka Kansas, and some surrounding areas