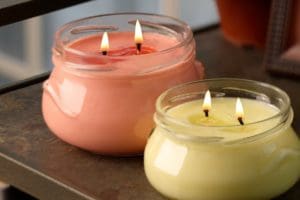 Burning candles creates such a great ambiance and warmth in your home. Your home, on the other hand, doesn't exactly feel the same. Burning candles pollutes your indoor air and contaminates your HVAC system and ductwork. Most candles are made from paraffin wax which, when burned, releases a wide range of carcinogenic toxins such as formaldehyde into the air that you and your family breathe.
The black smoke that you see when a candle burns is soot. The soot is made up of ultra-fine particles that you end up breathing in, gets trapped in your lungs, and can cause health issues. Not only will soot and wax discolor your walls, ceiling, and fabrics, it can clog up your air filter quickly and prevent air from flowing through it properly. And if you're not replacing your air filter monthly, that wax and soot will build up on internal components of your HVAC system and cause performance issues.
A safer alternative would be to use soy or beeswax candles. Also, be sure to keep your home well-ventilated while burning candles, keep the wick trimmed to ¼ inch, and don't leave your candles burning for more than a couple hours a day.
De Hart Plumbing Heating and Cooling, serving Manhattan Kansas, Junction City Kansas, Wamego Kansas, Topeka Kansas, and some surrounding areas.