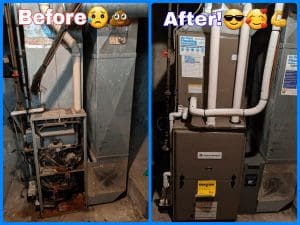 Now probably isn't the time that you're thinking about heating your home, but now is a great time to consider how your heat source was working last season and if you should consider replacement of your system now before you're left in the cold this winter.
If you're having to make costly repairs yearly, if you feel that your energy bills are on the rise every season, or if your unit is fairly old and inefficient are 3 big reasons why you should think about replacing your heating equipment with a high efficiency system that will save you money in the long run and keep your home nice and warm this winter.
During heating season, HVAC companies get pretty busy with regular heating service calls and if your system fails, you may be without heat for a few days before equipment is available and the technician's schedule allows for an install. Being pro-active about your heating system now can save you a headache when it is prime heating system.
If you've been thinking about your heating needs, give us a call at 785-341-4193 to set up a free estimate and see what options would be best for you whether it's ductless heating and cooling for add-on rooms or rooms with low air-flow or a complete new high-efficient heating system.
De Hart Plumbing Heating and Cooling, serving Manhattan Kansas, Junction City Kansas, Wamego Kansas, Topeka Kansas, and some surrounding areas.