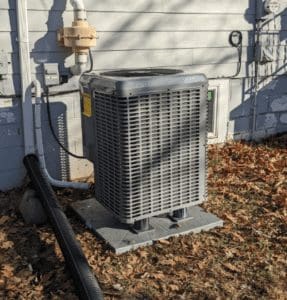 Heat pump HVAC systems are installed and maintained by De Hart Plumbing Heating & Cooling. The benefits of Heat Pump include decreased operating expenses, which can save you up to $1400 per year, safety with electrical use, a reduction in carbon emissions, can be used during cooling season, and a life expectancy of up to 25 years with proper maintenance.
How does a heat pump work? When it is heat season and you have set the heat setting on your thermostat, the heat pump moves heat from outdoors into your home. When you switch to summertime and it's set to cool, your heat pump reverses its process and is moving the heat from the inside of your home to the outside, just like an air conditioning unit does.
We offer maintenance of heat pump systems under our VIP membership or as a stand alone maintenance service. View the benefits of our VIP membership click here.