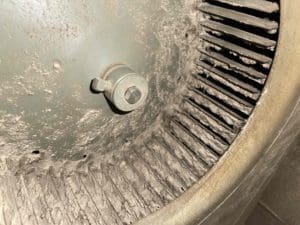 Your HVAC blower wheel is important to clean to ensure your furnace stays in tip-top condition. Your blower wheel might get dirty and clogged after countless years of non-stop use, which causes your HVAC system to function less efficiently.
A blower wheel has blades that are designed to push a given quantity of air in and out of the HVAC system. These blades can entice an amount of grime in on them causing the blower motor to work extra hard to spin the wheel. Consequently, it draws extra amperage to drive the motor, costing you a lot of money in the long run. Clogged blower wheels additionally cause the heat exchanger in your HVAC to run hotter which can decrease its lifespan.
DeHart Plumbing Heating and Cooling offers this service. Our trained HVAC technician removes the blower motor & wheel, separates the blower wheel to completely clean, adds lubrication to ensure ease of running, reinstalls the blower wheel & motor, secures all wires clean & neat, tests operations, and cleans up behind us.