Preventing Frozen Pipes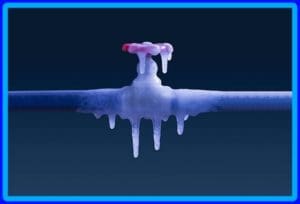 – With temperatures are dropping which means the water lines in your home are susceptible to freezing. There are a few precautions you can take to help minimize the likelihood of having frozen pipes when you wake up in the morning or if your heat happens to go out and you're waiting for heating repair.
+ Open cabinet doors under sinks where water lines are exposed to help circulate warm air around pipes.
+ Have a space heater readily available for times when your heating system malfunctions and a generator to supply electricity for room heaters if you experience a power outage.
+ Leave faucets trickling. Moving water is less susceptible to becoming frozen.
+ If leaving home for a few days, leave the heat set to at least 55 degrees and have someone periodically check in on your home for potential burst water pipes.
+ Keep interior doors of your home open to keep warm air circulation consistent.
+ Keep garage doors closed if there are exposed water lines located there.
Frozen pipes can put a lot of strain on water lines. It's best to try to prevent pipes from freezing rather than dealing with the aftermath of a burst pipe. If you do run into a situation where you think a pipe has burst, call us and let our knowledgeable technicians take care of all of your plumbing needs!
De Hart Plumbing Heating and Cooling, serving Manhattan Kansas, Junction City Kansas, Wamego Kansas, Topeka Kansas, and some surrounding areas