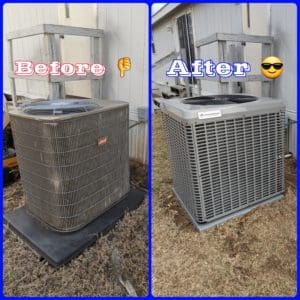 It's officially Summer and your AC is definitely feeling it! It may seem like your unit keeps your home cool in the mornings, but when you come home from work, your system seems to be running constantly and isn't able to reach the temperature set at your thermostat. When it's 100+ degrees outside in the afternoons, your system has to work a lot harder to keep your home set at a roughly 70-degree setting. Here's a few things that can help keep the cool in, keep the heat out, and help your AC not have to work so much overtime.
Secure your windows
-Check the caulking around your windows and re-caulk them as needed. Use solar shade screens, black-out curtains, or blinds to keep the solar heat gain through south-facing windows to a minimum.
Check outside doors and your garage doors
-Add weather stripping to your doors to prevent air leaks.
Add shading to your home
-Consider planting shade trees that will help block the sun's rays from beating down on your roof and radiating heat into your attic.
Improve your insulation
-Check the insulation in your attic to make sure it is sufficient enough to protect the lower levels of your home from heat transfer.
Check your air filter
-Regularly changing your air filter will ensure that it isn't restricting air flow and causing your system to work harder and less efficiently.
Get annual AC cleanings
-Evaporator coils that are plugged up with dirt prevents air from passing freely across it which can lead to freezing of the coil and low air flow through vents.
Clean condenser coils regularly
-Dirty condenser coils reduce the fins ability to release heat from the refrigerant and won't allow your AC system to adequately extract heat. Hosing down your outdoor unit at least monthly through peak usage months will help keep the condenser fins operating as they should.
With temperatures as high as they have been, it would be a good idea to look into this list and make sure you've covered all your bases to try to keep your home nice and cool. If you feel like you've done all you can and your AC can't keep up, give us a call at 785-341-4193 to have one of our highly trained technicians take care of your AC needs.
De Hart Plumbing Heating and Cooling, serving Manhattan Kansas, Junction City Kansas, Wamego Kansas, Topeka Kansas, and some surrounding areas.