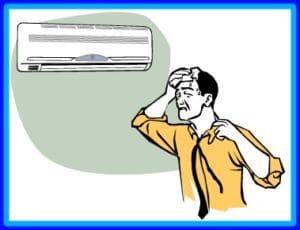 Is your AC Blowing Warm and not cooling down your home? Is air blowing through the vents but not cool? There are things you can check
Check your Thermostat Settings
Check your thermostat and make sure that it is set to cooling mode and the fan is set to Auto rather than On. If the fan is set to On, it will run continuously and circulate the air within the home which will not be nearly as cool as conditioned air from your AC system.
Check your Air Filter
If your air filter is dirty, it will reduce air flow in your system and cause your AC to struggle to cool your home. Check your filter monthly and replace it as needed.
Clean your Condenser
Remove any debris, trim back foliage, and use your garden hose to gently wash off anything that has built up on the coils. If debris has built up on your condenser, it won't allow for efficient heat release from the refrigerant.
Check the Breakers
Check your breaker box and make sure that the breakers for your AC unit haven't tripped. If it has, switch it back on and see if your AC system starts up. If the circuit trips again, you may need to call for professional assistance.
There's nothing worse on a hot day than to walk into your home to feel unconditioned air. If you check these items and have no luck, give us a call at 785-341-4193 and let our technicians take care of all of your AC repair needs!
De Hart Plumbing Heating and Cooling, serving Manhattan Kansas, Junction City Kansas, Wamego Kansas, Topeka Kansas, and some surrounding areas