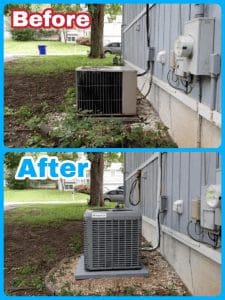 Has removing and installing a complete air conditioner system been on your mind? If your current system is old, outdated, or costing more and more every year to repair and maintain, you may want to consider the installation of a new AC unit.
A full air conditioner replacement and installation will not only keep your home more comfortable, but upgrading your system to a high-efficient system with a higher SEER rating (Seasonal Energy Efficiency Ratio) will decrease your home's energy usage. The minimum standard SEER rating is 13 and goes up to 21. If it's been 15 to 20 years since you've installed a new AC system, your SEER rating could be around 10. Upgrading your system from a 10 to a 14 SEER system will save you up to 29 cents per dollar.
Your home is an investment, as well as your HVAC system. The Champion brand cooling products we install are made here in Kansas and are backed by a 10-year parts and labor warranty. Our technicians are highly-trained and dedicated to providing you with quality installation of your new, high-efficient air conditioning system.
If you're looking to replace and install an entire system or just your inside or outdoor units, give us a call at 785-341-4193 to get set up for a free in-home estimate to help you decide what will fit your budget and is suitable for your home.
De Hart Plumbing Heating and Cooling, serving Manhattan Kansas, Junction City Kansas, Wamego Kansas, Topeka Kansas, and some surrounding areas.