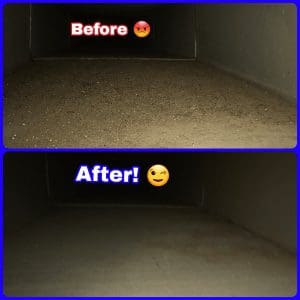 A main and often overlooked component to your HVAC system is your ductwork. According to the EPA, the air pollution in your home can be up to five times higher than the air outdoors and is in the top five environmental risks to public health. Household dust can contain mold, mildew, pollen, dust mites, animal dander, and dead skin cells. This all circulates through your home three to five times a day and could explain some unexplained allergy-related illnesses and why duct cleaning should be done regularly.
The best duct cleaning services will scrub and clean all return and supply air ducts and registers in your home and also the indoor coil on your AC unit and the furnace air handler blower box and wheel which is all of the main components where your indoor air flows through. If you want to take it a step further, you can have your ducts treated with Envirocon, an EPA registered anti-microbial chemical, which destroys organisms at the origin and prevents regrowth. Envirocon doesn't contain any perfumes, leaves no harmful chemical residue and doesn't require a respirator when used.
If your home has been remodeled or renovated, have had an animal infestation in your ducts or HVAC system, can see debris released through your vents or can visibly see mold in the ductwork, you should consider looking into a duct cleaning service to improve your indoor air quality.
De Hart Plumbing Heating and Cooling, serving Manhattan Kansas, Junction City Kansas, Wamego Kansas, Topeka Kansas, and some surrounding areas.