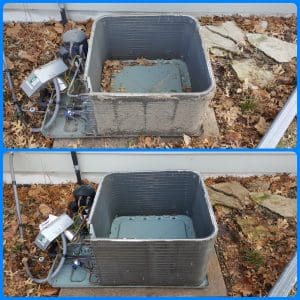 Helping your air conditioner run more efficiently is something that doesn't take a whole lot of time, won't cost you much, and can decrease your energy costs. The average household spends about $1,100 per year on heating and cooling alone so minor adjustments and small tasks can save you a pretty penny in the long run.
Keep your outdoor condenser clean and free of debris and don't store anything near your unit which can affect its ability to release the heat from the refrigerant.
Change your air filters regularly. Dirty filters put a lot of strain on your AC system and cause it to have to work harder to cool your home.
Adjust your thermostat. If your thermostat is programmable, turning the air up a few degrees warmer while nobody is in the home will help decrease your energy costs.
Keep your curtains closed during the day to keep the warm sunshine from creating a greenhouse effect in your home.
And the most important thing that will keep your air conditioner running as efficiently as possible is getting your annual AC maintenance completed in the spring or summer before the temps reach the triple digits. For all of your Plumbing, Heating and Cooling needs, give us a call at 785-341-4193!
De Hart Plumbing Heating and Cooling, serving Manhattan Kansas, Junction City Kansas, Wamego Kansas, Topeka Kansas, and some surrounding areas.