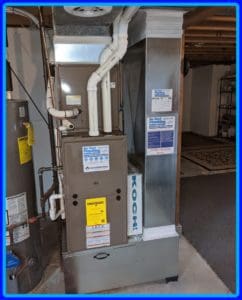 Most of us are turning on our AC systems and some of us are unfortunately finding out that our AC system isn't working properly. Annual maintenance is always highly recommended by any HVAC professional but most of us neglect our systems until there's a problem. Here's a few of the common reasons your system may be not working properly
Your air filter is dirty – A dirty air filter or even a filter that has a high MERV rating will restrict air flow to your HVAC system. Without proper airflow your system can literally freeze up. Check and change your air filters regularly to have optimum air flow into your HVAC system.
Your coils are frozen – Common reasons your coil might freeze would be due to refrigerant leaks, improper refrigerant charge, a dirty filter, and obstructed return or supply vents. If you see ice build-up, turn off the system and switch your thermostat fan to 'On' instead of 'Auto' to get air to flow over the coils and allow for it to defrost quicker.
Your coils are dirty – When your coils get dirty enough, they won't be able to remove heat from your indoor air efficiently. You'll end up circulating air through your system that's essentially the same temperature as it is in your home.
Your system has tripped a circuit breaker– A circuit may have become overloaded and tripped a breaker. If so, reset the breaker, but if the breaker trips again, call an HVAC professional to assess the situation.
Your thermostat batteries are dead or going dead – Simple solution, replace your batteries.
Your thermostat is still set to 'Heat' – The switch on your thermostat isn't set to 'Cool' mode. Make the switch and see if your AC turns on.
Your indoor or outdoor unit's disconnect switch is off – Usually turned off by accident by someone bumping into it, ensure your systems are both switched on.
Starting components are beginning to fail – The outdoor condenser takes a lot of power to start. Your outdoor unit has 2 capacitors to help start and run your condenser. Unfortunately, these components don't last forever and can cause your outdoor unit to act erratically or not at all.
Some of these issues are easier to overcome than others, but if you find that your air conditioner problems are beyond your skill set, give us a call at 785-341-4193 to have one of our HVAC professionals get your system back up and running.
De Hart Plumbing Heating and Cooling, serving Manhattan Kansas, Junction City Kansas, Wamego Kansas, Topeka Kansas, and some surrounding areas.