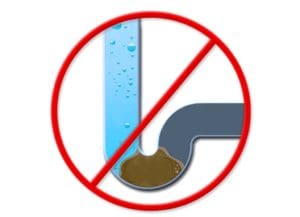 Preventing plumbing drain backups in the home is a lot more cost effective than paying for a drain cleaning service! There's a lot of things you shouldn't put down your drains that can cause a major backup. Here's a quick list of a few things that should not be going down your drains.
Things that should NOT go down your toilet:
disposable wipes
feminine hygiene products
cotton balls
bandages
dental floss or hair
cleaning wipes
Q-tips
condoms
kitty litter
Things that should NOT go down your sink drains:
grease, fat, & oil
peels, coffee grounds, rice, & pasta
bones
egg shells
flour (including batters)
seeds & grains
Following these tips will help keep your drains flowing as intended. If you do run into a situation that you have a, give us a call, day or night, at 785-341-4193 and have one of our experienced technicians get your drains flowing again and keep your household running!
De Hart Plumbing Heating and Cooling, serving Manhattan Kansas, Junction City Kansas, Wamego Kansas, Topeka Kansas, and some surrounding areas.