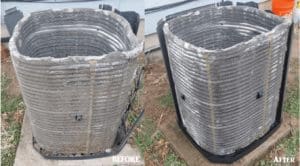 Tips for AC Efficiency
Helping your air conditioner function more efficiently is something that doesn't take much time, won't cost you much, and can help you save money on bills. Below are some tips for AC Efficiency:
Keep your outside condenser clean and clear of debris, and avoid storing anything near your unit that could interfere with its capacity to release heat from the refrigerant.
Replace your air filters on a regular basis. Filters that are dirty put a lot of strain on your AC system, causing it to work harder to chill your home.
Adjust your thermostat. If your thermostat is programmable, raising the heat up a few degrees while no one is home will help save money on energy.
Closing curtains will help block the sun from beaming into the home and heating it up.
Most importantly, having an annual AC Maintenance completed in spring or summer completed.
DeHart Plumbing, Heating and Cooling provides annual maintenance services for your AC and Heat. Ask about our VIP membership!