What is a Flame Rod & How Does it Work in a Furnace?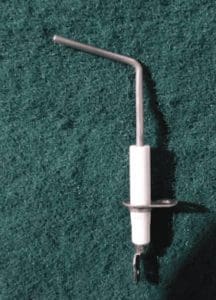 A safety device called a flame rod, sometimes known as a flame sensor, checks to see if a furnace is emitting flames and burning gas. Flame rods function as a result of the rectification/ionization process used to complete a circuit. The current that energizes the flame rod creates a positive charge that pulls the flame's negative ions toward it.
A flame rod might malfunction due to rust and corrosion, sediment buildup, faulty electrical wiring, fractures, and breakage. The average lifespan of a flame rod is 5 years. Throughout the course of your furnace, you'll probably need to replace the flame rod one to three times.
Signs that the flame rod has gone bad include; The heater not turning on, short cycling, intermittent clicking sounds, a crack formed on the porcelain exterior of flame rod, or a dirty flame rod.
De Hart Plumbing Heating and Cooling offers flame rod cleaning as a stand alone service, but it is also covered under the VIP HVAC heat servicing!