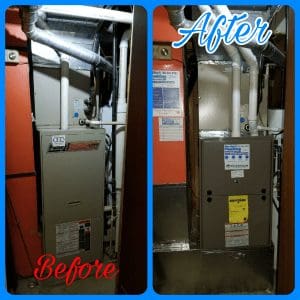 Your gas furnace is a luxury, but it can also pose major issues in your home. Here are a few things to keep in mind when you use your gas furnace this winter:
-Make sure the flame is burning blue rather than orange. A blue flame means complete combustion, yellow or orange means fuel isn't being burned correctly and more carbon monoxide is being produced. You should contact an HVAC professional immediately.
-Check your outdoor vents to make sure all exhaust fumes are properly vented out and not blocked by leaves, debris, snow, etc.
-Keep the front door panel in place. Without the door, you can increase your risk of carbon monoxide poisoning. Generally, furnaces won't operate without the panel in place, but if you have an older furnace, it may not have this safety feature.
-Keep anything combustible (paint, gas, solvents, etc.) away from the furnace.
-Have your furnace serviced annually by a licensed HVAC technician. One thing they check is the heat exchanger which can develop cracks over time and leak CO into the home.
-Change your air filters as recommended to promote good airflow.
Don't be left in the cold this season, Call De Hart Plumbing Heating & Cooling at 785-341-4193 to have your gas furnace serviced, inspected and repaired by a licensed HVAC technician.
De Hart Plumbing Heating and Cooling, serving Manhattan Kansas, Junction City Kansas, Wamego Kansas, Topeka Kansas, and some surrounding areas.