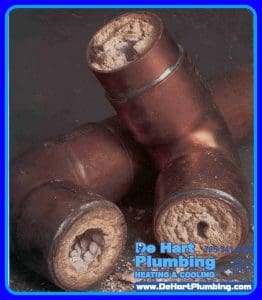 Home low water pressure can be annoying.  When you have Home Low Water Pressure it can make daily tasks such as showering and doing dishes frustrating and time-consuming.  Finding the cause can be a common plumbing problem.  Some of the usual suspects can be mineral build-up and debris in the pipes.  Dirt and sand can enter your home's pipes if you have had a water main problem.  Your plumbing pipes can be prone to mineral build up especially if you are on a rural water system.
If you have a leak in your home plumbing system, it can reduce the water pressure throughout your home. This is something you can have the city check if you are on a city water system.
Your municipal water supply can malfunction.  Sometimes the water pressure issue can be caused by the municipal water supply. The systems can be subject to leaks, mineral build-up and other problems that can affect your water pressure.  If you suspect your municipal system has issues give them a call.  If it is not the city system, call your local plumber.  785-341-4193.  De Hart Plumbing, Heating and Cooling.