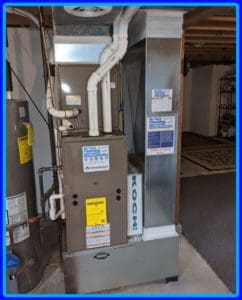 Your HVAC system is a big part of your home. And when you don't have it, you really miss it! Staying on top of maintenance will help you stay ahead of costly repairs and system replacement. There's not a lot of work to do but small things will greatly lengthen the lifespan of your equipment.
Change your HVAC filter
-Making sure you replace your filter often will ensure your system isn't trying to pull air through a dirty, plugged filter. Clogged filters put strain on your blower motor and can cause premature failure. A dirty filter can also cause your system to overheat and shut down when you're running your furnace.
Keep up with repairs
-If a repair or service is recommended by your HVAC technician, it's something you should strongly consider getting completed. Taking care of small issues before they become major issues will help keep you safe from your system malfunctioning during the heat of Summer or extreme cold of Winter.
Install a new thermostat
-If your thermostat is old and not as efficient as newer programmable models, you should consider upgrading your thermostat. Setting programs on your thermostat will ensure you're not using more energy to cool or heat your home when you're away and having your system run unnecessarily to maintain the temperature you have set.
Service your system annually
-Having your system cleaned and serviced annually will ensure your system is running at peak efficiency and performance. It will also keep you up to date on how your system is performing and whether you should consider system replacement in the near future or if repairs are still more cost effective.
Taking care of a few small tasks with your HVAC system regularly will keep the repairs to a minimum and will keep your household from being stuck in the heat or cold. Call us today at 785-341-4193 and have our technicians take care of your HVAC system maintenance and repairs.
De Hart Plumbing Heating and Cooling, serving Manhattan Kansas, Junction City Kansas, Wamego Kansas, Topeka Kansas, and some surrounding areas