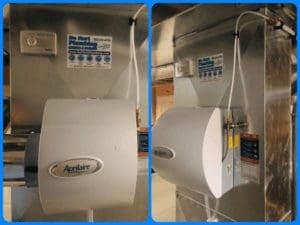 With the dry winter months upon us, do you or anyone in your household suffer from dry skin, bloody noses, a dry cough, or sinus headaches? Did you know that you could have a humidifier installed so no one has to needlessly suffer from issues due to dry air in your home? Installing a humidifier adds moisture into the air which can benefit people with dry skin or respiratory symptoms.
A central humidifier installed directly onto your heating unit will put humidity throughout your entire home unlike a portable unit which will only accommodate for one room. When installed directly onto your heating system, a humidifier not only will benefit your family and pets in the home, but also prevent wood furniture or wood flooring from drying out and cracking. A higher level of humidity in the air of your home will also make it feel warmer due to the add moisture which means you can lower your thermostat and still feel just as warm, saving you money on energy costs in the long run.
Humidifiers, like all HVAC equipment, does need serviced annually to ensure that the filter is changed, the discharge line is clear and clean, and the unit is functioning properly. If you're interested in scheduling a humidifier service, to schedule an estimate to have one installed in your home, or have questions about the types of humidifiers we have to offer, give us a call at 785-341-4193!
De Hart Plumbing Heating and Cooling, serving Manhattan Kansas, Junction City Kansas, Wamego Kansas, Topeka Kansas, and some surrounding areas.