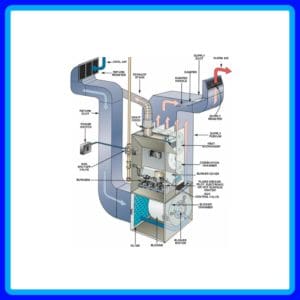 Is Your Furnace Operating Efficiently? Heating and cooling your home accounts for almost 50% of your energy costs annually. If your system isn't running efficiently or if your ducts or home allow for air loss, you're throwing a lot of money out the window every year. Annual maintenance on your HVAC system will reduce costs to keep your home at comfortable temperatures. Simple maintenance such as changing your filter monthly can help reduce those costs, but proper servicing by a trained HVAC technician is going to be your best bet at keeping your system running as efficiently as possible.
Annual maintenance is just that, maintenance that should be performed yearly. A lot happens in a year of using your HVAC equipment so it's very important to make sure everything is running properly and safely. Around your home, some things you can do to help prevent heat loss is to use thick, heavy curtains at your windows, install draft stoppers on exterior doors, and make sure the insulation in your home is adequate.
If you're in need of furnace maintenance, repair, or replacement, give us a call at 785-341-4193 and let our technicians make sure your heating system is operating as efficiently and safely as possible to help you save on energy costs this coming cold season!
De Hart Plumbing Heating and Cooling, serving Manhattan Kansas, Junction City Kansas, Wamego Kansas, Topeka Kansas, and some surrounding areas