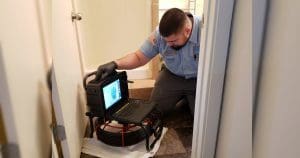 If you're in the market for a new home, you already know to have a home inspection completed so you know the ins and outs of your future residence. One major part that is often overlooked is the main sewer line of the home. If you're not having your sewer line inspected, you could have some major headaches in your future. Sewer inspections – get inspected before you buy.
Your main sewer line is where all the secondary drain lines from your home converge and then drain into your city sewer or to a septic tank. If your main line is compromised, you could experience backups or drainage issues regularly. Things that will affect the condition of the home's main line are root intrusion, bellies, offsets, cracks, breaks, and collapses to name a few. Depending on the severity of the issues found, a camera inspection will let you know if you should plan to replace the main sewer line sooner rather than later or if it would be a complete deal breaker for purchasing the home.
If you've been searching and think you found your dream home, give us a call to have our technicians perform a sewer camera inspection for you prior to closing on the house. Don't let your dream home turn into a nightmare!
De Hart Plumbing Heating and Cooling, serving Manhattan Kansas, Junction City Kansas, Wamego Kansas, Topeka Kansas, and some surrounding areas