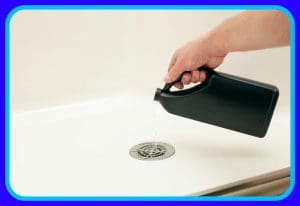 We've all been in a situation where a drain in our home just doesn't seem to drain like it should. Our first thoughts are usually to pick up some liquid drain cleaner from the store and let it do its magic. Don't! Drain cleaner can cause more damage than you think!
Liquid drain cleaner can damage pipes
Drain cleaners create a chemical reaction in your pipes. These chemicals are meant to dissolve buildup and if they are left sitting in clogged pipes, they can melt or deform plastic pipes or weaken or crack metal pipes.
They can be hazardous to breathe
The toxic chemicals in drain cleaners aren't good for humans or furry members of your family to breathe. These chemicals can irritate your eyes, nose, and throats and some are even dangerous to touch due its likelihood to burn the skin.
They may not work
There's lots of reasons that your drains can become clogged. Chemical cleaners can dissolve some blockages but if you have a more serious issue, it can cause further damage to your pipes.
It may seem like liquid drain cleaner are a quick, simple, inexpensive fix but, it can cost you more in repairs later! If you have any issues with slow or clogged drains, give us a call at 785-341-4193 and let our technicians keep your plumbing flowing!
De Hart Plumbing Heating and Cooling, serving Manhattan Kansas, Junction City Kansas, Wamego Kansas, Topeka Kansas, and some surrounding areas.