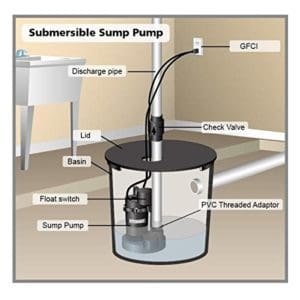 Spring has sprung and so has the rain! If your home has a sump pump installed, now is the time to make sure it is working properly before you find yourself in a flooding situation that's causing water damage to your home.
Make sure your sump pump is connected to power.
Test your sump pump by pouring water into the pit. The pump should turn on automatically and start discharging water out of the pit. Your sump pump is activated by a float. If the pump has power and you have poured water into the pit, the float may have become stuck.
Disconnect the sump pump from the power and disconnect the discharge line. Remove the pump from the pit and clean all accessible debris from the unit. If the pit is messy, clean up the area while the pump is removed.
Check and clear the discharge line for blockages that may inhibit the flow of water.
Re-install sump pump back into the pit and connect to power. Then, pour water into the pit to make sure the pump engages and discharges the water.
Your sump pump should be checked monthly to ensure it is working properly by pouring a bucket of water into the pit to make sure the pump activates. Annual maintenance and a thorough cleaning of the sump pump, sump pit, and discharge line will help prevent any issues that may be caused by debris buildup. If you don't feel comfortable checking the functionality of your sump pump system and/or performing maintenance on it, call us and let our technicians take care of all of your sump pump needs!
De Hart Plumbing Heating and Cooling, serving Manhattan Kansas, Junction City Kansas, Wamego Kansas, Topeka Kansas, and some surrounding areas