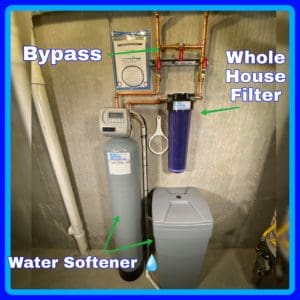 The water we use when we turn on the tap in our home comes from the city. Your city's water treatment plant does remove a lot of the contaminants from the water you drink, but not all of it. Contaminants such as lead, chemicals like fluoride and chlorine which may have been added at the water treatment plant, and minerals that passed through the city's filtration can adversely affect you and your family's health as well a cause buildup on the plumbing in your home, including all fixtures and water using appliances.
There are many different types of equipment that can be installed in your home to improve your water quality. Whole-house filters, water softeners, and reverse osmosis filtration systems can easily be added to your home to improve your water quality and increase the lifespan of your water using appliances.
If you're interested in water quality equipment or in need of service on your existing equipment, give us a call at 785-341-4193 and let our technicians take care of all of your water quality needs!
De Hart Plumbing Heating and Cooling, serving Manhattan Kansas, Junction City Kansas, Wamego Kansas, Topeka Kansas, and some surrounding areas.