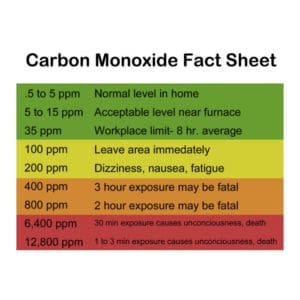 We all know the dangers of carbon monoxide poisoning. When most people think of carbon monoxide, they think of exhaust from their vehicle. But, within your home, any gas appliance produces carbon monoxide and if not maintained, can have deadly consequences. This includes fireplaces, water heaters, kitchen stove, clothes dryer, and furnace.
The biggest culprits in your home are your gas water heater and gas furnace. If the exhaust flue for your water heater and furnace are rusted, corroded, have holes, or aren't connected properly, that can allow for carbon monoxide to leach into your home or to pulled into your return air at your indoor HVAC unit and then be disbursed into every room of your home.
A trained technician will check for CO levels in your home when working on your gas appliances and will alert you and let you know how to alleviate the problem. This is especially important if you have an older gas furnace because cracks on the heat exchanger are all too common. Annual maintenance on your furnace is highly recommended not only for the longevity of the equipment, but also for the safety of you and your household.
De Hart Plumbing Heating and Cooling, serving Manhattan Kansas, Junction City Kansas, Wamego Kansas, Topeka Kansas, and some surrounding areas.