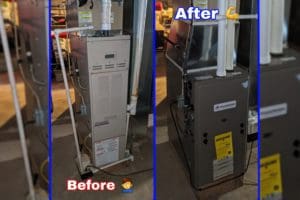 There will come a time when you think you have heat on in your home and your furnace simply isn't working. There are many things that can cause your gas furnace not to work properly but there are a few things that's easy enough for you to check that don't require any tools.
– Check your air filter
A dirty filter will choke your furnace of air and can cause your high limit switch to trip and shut down your system.
– Check your thermostat
Make sure your thermostat is set to the correct settings for heat, that the set temperature is above what the actual temperature of your home is, and if your thermostat is battery powered, the batteries aren't corroded or in need of replacement.
– Check for power to the furnace
Take a look at your breaker box and make sure that your HVAC system hasn't tripped the breakers, if so, reset the breaker and try to test operations.
– Make sure gas is on
Check to make sure the gas valve is open allowing gas to flow to the furnace and that gas is turned on to the residence.
– Ensure safety door is secure
Check the safety door on your furnace to make sure that it is completely closed and latched into the safety switch. If the door isn't seated properly and
There have been many times that technicians have went to residences and found that the issue was an easy fix. Checking these few items may definitely save you money and time waiting to get a technician to your home for a service call. If you've checked these items and it didn't help, give us a call at 785-341-4193 and let our highly-trained technicians take care of your heating system.
De Hart Plumbing Heating and Cooling, serving Manhattan Kansas, Junction City Kansas, Wamego Kansas, Topeka Kansas, and some surrounding areas