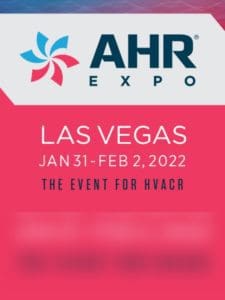 The world's largest HVACR event, the 2022 AHR Expo is coming up next week in Las Vegas and we have a few technicians and our fearless leader that are super pumped to see everything new in the HVACR industry! Over 1,650 exhibitors will be set up and ready to showcase their new products for 3 days from January 31st through February 2nd. These few days will fly by fast with the demonstrations, education, networking, and over 80 speakers who will be presenting on topics ranging from creating your customer experiences to air filtration and Covid-19 to system integrations.
But what is the AHR Expo? First off, AHR stands for Air-Conditioning Heating Refrigeration. The AHR Expo is a place where manufacturers can come together to share ideas and showcase the future of HVACR technology. The Expo is for contractors, technicians, architects, educators, industry professionals, and anyone who has a passion for the HVACR world. The Expo originally started in the 1930s and this year, they are anticipating 50,000 attendees, not including exhibitors.
Our employees who will be headed to Las Vegas for this year's AHR Expo are in for a very big treat and in this case, what happens in Vegas, won't be staying in Vegas; they'll be bringing back a wealth of knowledge to present to their fellow technicians. Advancements in technology in the HVAC world are happening at lightning speed and attending events like this helps keep our company on the forefront of all things related to our industry.