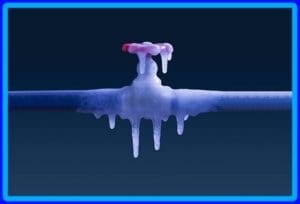 Cold weather is here! If you live in a home that is susceptible to pipes freezing, now is the time to make sure your home is ready for the freezing temperatures.
If you have heat tape on your plumbing pipes, check and make sure that the heat tape is working properly. If you don't have heat tape installed and have to deal with frozen pipes through cold snaps, call your trusted plumber and have them install heat tape for you. A frozen pipe isn't only just an inconvenience of not having water until that pipe thaws, a frozen pipe can burst and cause major damage within your home that can end up being very costly repairs.
If you have plumbing pipes that are insulated, look them over and make sure that the insulation isn't compromised and in need of replacement. If you have any pipes that are along the exterior of the home or in uninsulated spaces such as your garage, you may want to consider adding insulation to those pipes to prevent burst pipes in the future.
If you've lived in Kansas long enough, you know that below freezing temperatures are right around the corner. Don't let yourself be stuck in a plumbing emergency because your pipes weren't protected! Call us and let our technicians make sure your home won't have any plumbing emergencies or disasters this Winter.
De Hart Plumbing Heating and Cooling, serving Manhattan Kansas, Junction City Kansas, Wamego Kansas, Topeka Kansas, and some surrounding areas