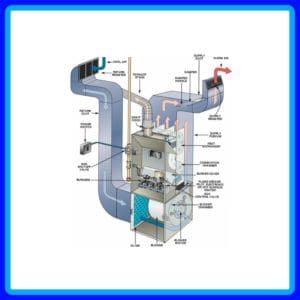 Now is the time to schedule your annual heating system maintenance! A pre-season check on your furnace, heat pump, or air handler is the best way to help ensure your system will keep you and your family warm throughout the coming cold season. Having your trusted HVAC technician thoroughly test and clean your heating system will let you know where you may have issues in the future that you can take care of before you're left in the cold.
An annual inspection of your heating system will not only make sure you're aware of the state of your equipment, it'll ensure you don't have any dangerous gasses or fumes leaking from your system that can have harmful effects on your family and pets. Carbon monoxide exposure can produce symptoms ranging from headaches and fatigue to a fast heart rate, convulsions, and unconsciousness. Natural gas exposure symptoms can include dizziness, nausea, and irritated eyes and throat to name a few. Keep an eye on your pets and be attentive if you notice them start to display any of the symptoms mentioned.
Your HVAC system is the heart of your home. Make sure it's going to keep your family warm and safe through the next few cold months. To schedule your annual heating system maintenance, give us a call at 785-341-4193 and let us help keep your family healthy and warm this chilly season.
De Hart Plumbing Heating and Cooling, serving Manhattan Kansas, Junction City Kansas, Wamego Kansas, Topeka Kansas, and some surrounding areas