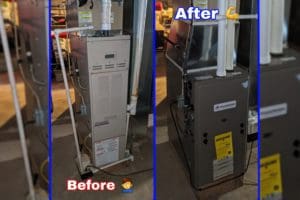 It's starting to be cooler out, so that means it's time to start thinking about your furnace and if it's going to be able to keep you and your household warm through the Winter. Is it time for a Furnace Replacement?
If your system is over 15 years old, your heat exchanger should definitely be inspected for cracks which can allow for carbon monoxide to leak into your home. The expansion and contraction of the heat exchanger when your furnace is running is what causes stress cracks and breaks over time. If a technician does find a cracked heat exchanger, it's more cost effective to replace the furnace rather than make costly repairs on an already older system.
If your energy bills every year are increasing just to keep your home warm, you should consider replacing your system with a more efficient heating system. Also, as your system ages, repair costs will start to increase to keep your equipment running properly and sometimes, it may become difficult to locate parts for your equipment.
If your furnace has started making noises such as rattling, humming, or squealing, it's a sign that your equipment needs attention. It may be something as easy as loose screws or it could be a bit pricier with major components needing replacement.
If you're looking to have your furnace replaced or are in need of annual furnace maintenance, call us at 785-341-4193 and let us help keep your family warm this Winter.
De Hart Plumbing Heating and Cooling, serving Manhattan Kansas, Junction City Kansas, Wamego Kansas, Topeka Kansas, and some surrounding areas