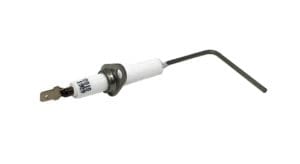 If the heat in your home is from your gas furnace, you may already be familiar with a flame sensor. A flame sensor is a safety component on more modern gas furnaces located near the burner assembly that senses flame. Why that's important is because if your burners won't ignite, the flame sensor will tell the system to shut down and to stop releasing gas which can have deadly consequences within your home.
Just like any component of your HVAC system, a flame sensor does need maintenance and will need to be replaced during the life of your equipment. Part of the maintenance of the flame sensor is cleaning it annually to clear off any soot or debris that has accumulated. A dirty flame sensor cannot detect a flame even if there is one present and it will shut your furnace operation down. Cleaning your flame sensor isn't difficult but it is something that you should research and make sure you're prepared to do.
To avoid being in a potentially costly furnace repair situation because of a dirty flame sensor, call us at 785-341-4193 and have our technicians perform annual maintenance on your heating system and make sure your system is operating safely and at its full potential.
De Hart Plumbing Heating and Cooling, serving Manhattan Kansas, Junction City Kansas, Wamego Kansas, Topeka Kansas, and some surrounding areas.