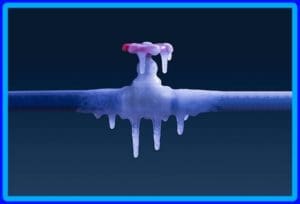 We're getting into Winter slowly but surely! Now is the time to start thinking about your plumbing pipes and their potential to freeze. If your pipes are uninsulated, in an uninsulated portion of your home, or near an exterior wall, there's a possibility that your pipes can freeze. The best way to navigate around frozen water pipes is to prevent it from happening in the first place!
Preventing frozen pipes
Keep the heat in your home set above 55 degrees if you leave the home for an extended period of time
Keep your garage door closed if there are water lines uninsulated in the garage
When temperatures drop below freezing, keep cabinet doors under sinks open to circulate warm air around water lines
Let your faucets trickle; this includes sink faucets and tub faucets
Thawing frozen pipes
If pipes are frozen, open up all faucets to let water flow when thawed
Put heat on the pipes using a space heater, heat lamp, heating pad, or towels soaked in hot water. Do not use an open flame!
Keep heat on the frozen pipes until full water pressure is restored
Make sure to check everywhere in and around the home for potential leaks from bust pipes once water has been restored. If you're able to, add insulation to your attic, install heat tape to exposed pipes especially if you're in a mobile home, and seal up your home to prevent air leakage.
De Hart Plumbing Heating and Cooling, serving Manhattan Kansas, Junction City Kansas, Wamego Kansas, Topeka Kansas, and some surrounding areas.