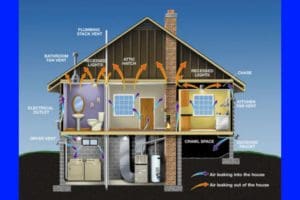 We know all too well that the weather in Kansas can be very unpredictable so you should start getting your home ready for the cold months by making sure to stop the drafts and make sure it's sealed up tight and will keep the warmth in and the cold out.
Replace old weather stripping on windows and doors. Use thick, heavy curtains on windows that are drafty to help keep the cold out. And use a door draft stopper under doors that lead outside or to unheated parts of the home such as the basement, garage, or attic.
For very drafty windows, a clear, plastic film can be installed on the inside of the windows in your home to create an air layer of insulation to help prevent drafts.
Make a small investment on insulation for your wall switches and outlets. If you've noticed, there isn't any insulation around most outlets and during cold months, a cool draft can be felt from your wall plates. An easy to install foam insulation gasket will help reduce heat loss and drafts from your wall outlets and switches.
Inspect your attic insulation to make sure it's adequate. While you're up there, check for any holes or spaces that would allow outdoor critters to get into your attic and make a nice, warm home.
For anything HVAC or plumbing that you're not able to tackle yourself while you're taking care of your home maintenance, give us a call at 785-341-4193 and let us help take care of your home.
De Hart Plumbing Heating and Cooling, serving Manhattan Kansas, Junction City Kansas, Wamego Kansas, Topeka Kansas, and some surrounding areas.