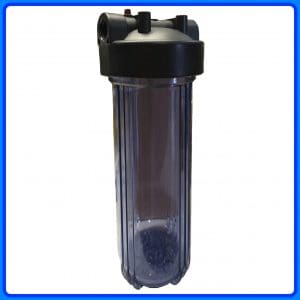 Whole-house water filters are beneficial to all homes whether they are supplied by your city or if you use well water. Whole-home filters will remove the contaminants, pollutants, disinfectants, and odors in your water including chlorine, fluoride, sulfur, pesticides, lead, sediment, and more. A whole-house filter is a point-of-entry system and is installed where your main water supply comes into your home before getting dispersed throughout your water supply lines. With a whole-house filter, all water from every fixture will produce filtered water.
You're probably buying bottled water because you're avoiding all the contaminants in the water from your faucet, yet you still cook, shower, and wash dishes with the water that you're not drinking. Chlorine is a great sterilizer to kill the bacteria in your water, but if you've been avoiding drinking your home's water due to the chlorine content, breathing chlorine vapors when water is heated is more damaging to your lungs than chlorinated water is to your digestive system which is designed to handle low levels of toxins.
If you're using well water, your water isn't getting filtered or sterilized! According to the US Department of Interior, 23% of private well water sampled from across the country contained a level of contaminants high enough to cause health concern. These contaminants include radon, arsenic, and nitrate to name a few. Bacteria is also prevalent because the water isn't being sanitized with chlorine like urban water.
If you're interested in installing a whole-house filter in your home or would like more information, call us TODAY at 785-341-4193.
De Hart Plumbing Heating and Cooling, serving Manhattan Kansas, Junction City Kansas, Wamego Kansas, Topeka Kansas, and some surrounding areas.