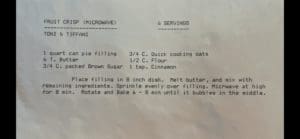 Fruit Crisp Recipe
A quick and easy summer dessert recipe!
1 quart can pie filling
7 T. Butter
¾ C brown sugar (packed)
3/4 C quick cooking oats
½ C flour
1 tsp Cinnamon
Place filling in an 8 in dish. Melt butter, and mix with remaining ingredients. Sprinkle evenly over the filling. Microwave at high for 8 minutes. Rotate and bake for 6-8 minutes until it bubbles in the middle.