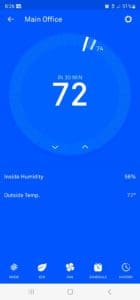 Thermostat
A thermostat is a HVAC system's brain. Which type of thermostat do you have in your house; a programmable one or non-programmable? Have you considered replacing your non-programmable thermostat with a programmable one or even a high-tech smart thermostat?
You'll pay less for heating and cooling if you can set your thermostat to operate on a seven-day schedule. By reducing the amount of heating and cooling your home uses when it's unoccupied by a few degrees in the winter and increasing few degrees in the summer, you may cut your annual energy usage by around 10%.
A smart thermostat might be ideal for you if you want convenience and accessibility, even when you're not at home. Your thermostat can not only be managed from your phone, but it can also pick up on your daily patterns. Imagine if your thermostat could change the temperature of your house on its own after learning that you prefer to sleep a few degrees lower. Some people even monitor the weather forecast to change the temperature in their homes if there are significant temperature swings.