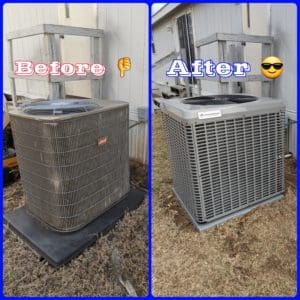 After our brief cold stint we had, it looks like we may be finally getting into consist warm weather soon.  With warmer weather comes AC usage. Now, it's never too early to have your air conditioner serviced for the season. As long as the temperatures are adequate, we can make sure your AC unit is working properly and as efficiently as it can to help save you money on your energy usage but also take care of any issues your system may be having before air conditioning season officially sets in.
I you had any issues with your AC in the past such as:
Not keeping up
Freezing
Blowing warm
Leaking
Or if you're due for annual servicing of your air conditioning system, call us at 785-341-4193 and we'll get you scheduled to have a technician clean, inspect, and test all operations to get ahead of any repairs that may be needed and to ensure that your system is functioning at its fullest potential.
De Hart Plumbing Heating and Cooling, serving Manhattan Kansas, Junction City Kansas, Wamego Kansas, Topeka Kansas, and some surrounding areas