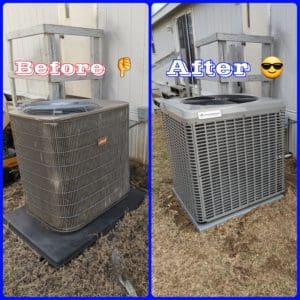 Nowadays, our HVAC system is the heart of our homes. 100 years ago, centralized cooling was hardly something homeowners thought was possible.
The first fully air-conditioned home was built in 1913 by Charles Gates in Minneapolis, heir to a wire fortune. He also had gold plumbing in his 38,000 square foot home. Unfortunately, he died before the completion of the home.
The Romans created the first recorded central heating system dating back to 350BC. Their system sends heat from a furnace through the floors and pipes located in walls to heat areas.
In the 1940's, a window AC unit cost $350 which translates to around $3,500 today.
The first car to have an air conditioner was built by the Packard Motor Company in 1939 but wasn't well taken by the public due to its high price tag and large amount of trunk space it required.
The first president to enjoy AC in the White House was Herbert Hoover at the start of the Great Depression for a cost around $30,000.
Developments in modern air conditioning has allowed for huge advancements in medical technology by allowing the manufacturing of certain medicines.
Heating and cooling your home is about 54% of your home's annual energy costs. About 20% of energy usage is from heating water. So almost 75% of your energy use comes from your HVAC unit and water heater.
De Hart Plumbing Heating and Cooling, serving Manhattan Kansas, Junction City Kansas, Wamego Kansas, Topeka Kansas, and some surrounding areas