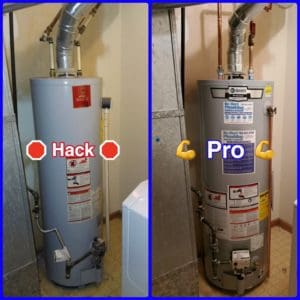 When was the last time you had your water heater serviced? If it's been longer than you can remember, you should consider scheduling annual maintenance. Regular servicing of your water heater, whether it's gas, electric, or even tankless, will ensure that the equipment is working safely and as efficiently as it should. Annual water heater maintenance will also increase the lifespan of your equipment.
During regular maintenance a technician will drain and flush the water heater tank. This is important because sediment build up can reduce the volume of water the tank is able to hold, can create hot spots leading to tank damage and failure, and could cause the lower heating element in electric water heaters to fail.
Temperature and pressure valves will also be checked and replaced. This valve is a safety device that protects your water heater from excess temperatures and pressure by discharging water to release pressure within the tank.
The anode rod is a self-sacrificing metal rod that drops in from the top of the tank. With water, the metal water tank, and heat, corrosion and rust is bound to happen. The anode rod attracts the corrosion from the tank walls, but once the anode rod is fully corroded, the tank is then susceptible to rust and deterioration which will decrease the life expectancy of your water heater.
Making sure your water heater is serviced annually will help ensure you won't wake up to any surprises such as a cold shower or a water heater leaking water. Annual maintenance will also help protect your investment to make certain that you're getting the most life out of your water heater as you're able to.
De Hart Plumbing Heating and Cooling, serving Manhattan Kansas, Junction City Kansas, Wamego Kansas, Topeka Kansas, and some surrounding areas