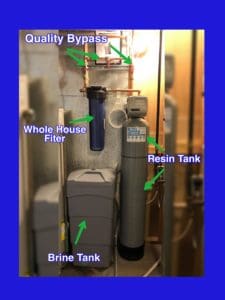 Do you have equipment in your home that improves your water quality? When was the last time you had maintenance performed on those systems? It is recommended that you replace your water filters and have your water softener serviced annually. Yearly maintenance on your water quality systems will ensure that your equipment is functioning properly and effectively.
Not replacing filters in your whole-home water filter, reverse osmosis system, or drinking water filter will allow those filters to become clogged and not work as effectively as they should at filtering out contaminants. It can even reduce the water pressure to fixtures in your home and will affect the taste of your water.
How about your water softener? Foregoing maintenance on your water softener will allow for clogged inlet valves, salt mushing, and salt bridges, all of which will inhibit the performance of your softener. If you ever notice discolored or smelly water, a salt bridge, or a decline in performance such as water spots or soaps that aren't lathering well, you should call a plumbing professional and have your water softener serviced.
If it's been a while since you've had your water quality equipment serviced or can't even remember the last time you changed the filters in your system, call us at 785-341-4193 and let us make sure the water in your home is at the best quality it can be!
De Hart Plumbing Heating and Cooling, serving Manhattan Kansas, Junction City Kansas, Wamego Kansas, Topeka Kansas, and some surrounding areas