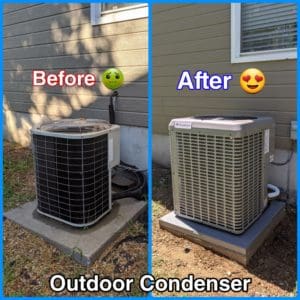 It's looking like Spring has finally sprung! While you're taking care of your Spring cleaning, don't forget to clean up your outdoor condenser for your air conditioner too! It doesn't take much time but it will help your entire AC system function more efficiently.
Turn off the power to your AC unit
Remove debris from around the outside of your condenser
Clean the condenser fins. Use a high-powered shop vac then use your garden hose to spray from the inside out to remove stuck-on debris
Straighten the fins. You can pick up a fin comb at your local hardware store or use a butter knife to straighten out fins. Be careful not to damage the tubing that runs through the fins
Cut back foliage that may have grown up around the base of the condenser and rake away any leaves that may have accumulated
These simple steps will help your outside condenser function more efficiently which will help save on energy costs and extend its lifespan. If you don't feel comfortable cleaning your outside condenser yourself, give us a call and let our highly-trained technicians make sure your air conditioning system is cleaned, tested, and functioning properly.
De Hart Plumbing Heating and Cooling, serving Manhattan Kansas, Junction City Kansas, Wamego Kansas, Topeka Kansas, and some surrounding areas