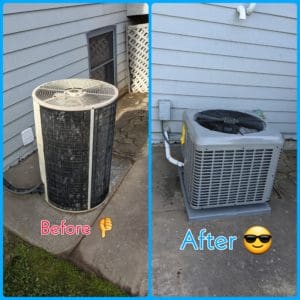 Is your Air Conditioner Not Working? There are several reasons why your air conditioner may be in need of repair. Your AC may not be blowing cool air, it might take a few tries to turn on, it may freeze up, it may not even push air through the vents in your home, or it may do absolutely nothing to name a few problems you may have. AC repair is something that you will have to deal with at some point in time.
As a homeowner, if you experience any cooling issues, there are a few things to look for that are common AC culprits.
Clogged air filter – A clogged air filter will restrict air flow and can cause your evaporator coil to freeze which will eventually thaw and may leave you with a big water mess. Replace air filters regularly to keep your AC running at peak performance
Power issues – A circuit may have inadvertently been tripped or a fuse may have been blown. Check your breaker box and see if any breakers have tripped and reset those breakers as needed
Dirty condenser – Buildup of debris on your outside condenser can cause your system to not cool your home effectively. Rinse off debris that has accumulated on your condenser and test operations of your system to see if it's working properly
Broken thermostat or dead batteries – A thermostat that isn't functioning properly will not send the correct signal to your HVAC unit to begin operation. If the batteries are dead, replace the batteries in the thermostat try running the system
Your air conditioning system may have a bigger issue such as a refrigerant leak, failed motor, or failed components and if that's the case, you're going to need to call in an HVAC professional. Whether you're in need of AC repair or complete AC replacement, we've got you covered! Give us a call at 785-341-4193 and let us take care of all your AC repair, maintenance, and replacement needs!
De Hart Plumbing Heating and Cooling, serving Manhattan Kansas, Junction City Kansas, Wamego Kansas, Topeka Kansas, and some surrounding areas