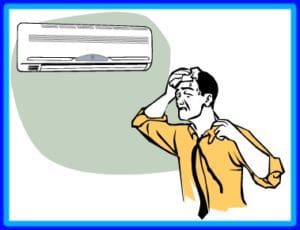 Cold does not exist! Cold is a descriptive word to describe what something feels like but it's not measurable. Heat is measurable. So, when you say it's cold outside, what you should really say is that outside is lacking heat. Why this is relevant is because when your AC is running and cooling your home, your system is actually removing heat from your indoor air through the refrigerant and releasing the heat from the refrigerant outside at your condenser.
For your air conditioning system to run as efficiently as possible your system needs to be cleaned and operating within manufacturer specifications. One very important part of your system that you should keep cleaned is your condenser. If your condenser is very dirty, it won't allow for the refrigerant flowing through your system to release heat extracted from the air within the home outside. Therefore, your system is probably going to be running constantly and blowing warm air through your vents. There are a few different reasons why your system may be blowing warm air, but you should check your condenser and make sure the fins aren't covered in grass clippings, cotton seeds, leaves, or debris of any kind.
If your home has an abundance of heat (or your air conditioner isn't cooling well) and you're in need of AC service, call us at 785-341-4193 and let our highly-trained technicians take care of all of your air conditioning service, repair, and maintenance needs!
De Hart Plumbing Heating and Cooling, serving Manhattan Kansas, Junction City Kansas, Wamego Kansas, Topeka Kansas, and some surrounding areas