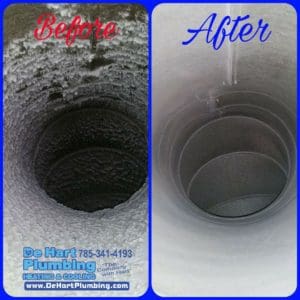 Have you had a heating and cooling air duct cleaning within the last few years? If you haven't, you should probably consider having it done! Indoor air quality is one of the top 5 environmental risks to public health and indoor air pollution, on average, is 2 to 5 times higher than typical outdoor air pollution!
Dirty air ducts can cause numerous effects such as irritation of the eyes, nose, and throat, headaches and dizziness, and respiratory issues including allergies. 'Sick building syndrome' occurs when multiple occupants experience similar symptoms when entering and leaving a building. Mold, pollen, bacteria, pet dander, VOCs, and dust mites are just a few things that can be negatively affecting your indoor air quality.
If you've never had your heating and cooling air ducts cleaned, have recently had home renovations completed, or have household members experiencing 'sick building syndrome,' give us a call at 785-341-4193 so we can discuss your concerns and provide you with options for services to improve your indoor air quality.
De Hart Plumbing Heating and Cooling, serving Manhattan Kansas, Junction City Kansas, Wamego Kansas, Topeka Kansas, and some surrounding areas