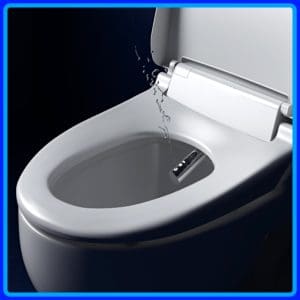 A common thing you'll see when you travel the world is how many countries utilize bidets or washlets. They provide your tooshie with a 'fresh out of the shower' feeling after doing your business. Annually the world uses 42 million tons of toilet paper a year which is about 712 million trees. But why do we not utilize bidets and washlets more in the United States?
For most Americans, the first time seeing a bidet was during WWII while troops were stationed in Europe and was generally found in unsavory places such as brothels and they began associating bidets with the world's oldest profession.  Americans aren't ones to be completely left behind though, we embraced an alternative product; the wet wipe. Much to your city sewer's displeasure, wet wipes have caused billions of dollars of damage because wipes don't break down like toilet paper does and will help create massive blockages in city sewers.
One thing that single-handedly boosted American's thoughts on bidets and washlets was the toilet paper shortage in 2020! Cleaning with water will always give you that fresh clean feeling every time and it won't ever cause any issues with your sewer lines or the city sewer lines. Using a bidet or washlet is also better for the planet.
De Hart Plumbing Heating and Cooling, serving Manhattan Kansas, Junction City Kansas, Wamego Kansas, Topeka Kansas, and some surrounding areas.