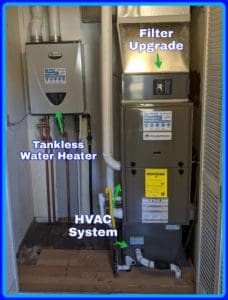 It's getting to that time of the year where we're starting to use our ACs less and think about turning on our furnace more. Here's a few things to check before you officially turn on your heating system for the year.
Make sure your filter is clean and replace it if necessary. Also, inspect where your filter slides into its filter rack. If there's a gap, that will allow for unfiltered air to enter your system and cause debris buildup and premature failure of components.
Give your furnace some breathing room. Clear out the area around your furnace so there's nothing stored close by that could potentially be a fire hazard.
Test your Smoke and CO Detectors. The best time to check your smoke and CO detectors is before you turn on your gas-powered furnace. Carbon monoxide is odorless and CO poisoning is deadly. Make sure you're keeping your family safe.
These 3 things are very important for the life of your heating system. Keep in mind that when you first turn on your heating system whether gas or electric, you may smell that something is burning. The burning smell is dust and debris being burnt off of the heating system. The smell should stop after a few uses but if it seems to linger, you should turn off the system and call your local HVAC company immediately.
De Hart Plumbing Heating and Cooling, serving Manhattan Kansas, Junction City Kansas, Wamego Kansas, Topeka Kansas, and some surrounding areas.